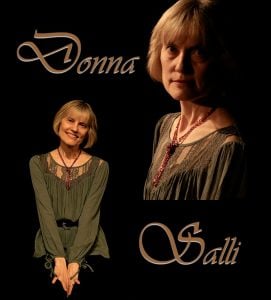 Donna Salli is Finnish-American, on both sides of a large extended family. She was born and raised in Michigan along the shores of Lake Superior, and like the characters in her novel, A Notion of Pelicans, she has a fascination for the big lake.
Her family also lived, when she was in first grade, with her paternal grandparents on their northern Wisconsin dairy farm. The house had a single water faucet in the kitchen that delivered icy cold water from the well—there was no hot water, no toilet or bath, no central heat. Ironically, in that primitive house, she was given a deep love for the life of the mind and the written word. Every night as her mother tucked Donna and her younger brother into bed, she read poetry and stories to them.
Donna writes in multiple genres—poetry, fiction, drama, and the essay. Her creative work focuses on family, heritage, spirituality, changing gender roles, and other social issues.
For more information about her education, publications, and interests, click here.
I write mostly for women. I've been doing it since the first time I set pen to paper, the summer after high school. I began a novel that summer, based on my maternal grandparents' lives, from the point of view of my grandmother. I only wrote a few chapters, but I still have the hand-written manuscript, in pencil no less. Once I got to college and began taking writing classes, I came to see that, for many, my writing for women would make me seem less serious as a writer. I kept doing it anyway—determined to figure out a way to interweave women and seemingly masculine concerns like architecture. I also decided to keep writing about grandmothers. I'd heard classmates disparage grandmother poems, and it rankled me. Stubbornness? Independence? Yes, but I did it mostly because I am a daughter of my mother.
I'm feeling the need for poetry lately. This week is the most poignant week of my year—mid-December, the dark season, with long nights and two anniversaries of loss. During this week, on different years, I lost my grandmother and my father. Each year as those anniversaries approach, I feel a growing quiet inside—it's heart-centered, gentle, like a shadow half glimpsed. For years I didn't understand what was at the root of my December mood, but now I do. And that's when only poetry will do.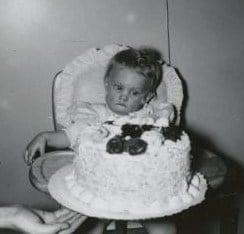 I sometimes wonder. Whatever possessed me to want to write? From where I am now in life, the answer is apparent—when I started, it was with a blend of aptitude and naiveté. Writing is work, hard work, mentally and physically, and if you look to publish, it can take years to make little progress. I've thought, at times, I'll just stop—just stop writing. I never have, though, because what I feel at my desk—that high of creative flow—outweighs the rest. But writing comes with other costs, too. It's dangerous. You find yourself writing what scares you.
A Notion of Pelicans – by Donna Salli
On a windblown bluff above Lake Superior sits a fieldstone church. Founded one hundred years ago after a puzzling encounter with a flock of pelicans left Lavinia with a curious notion, Pelican Church still draws inquisitive souls to its pews with the legend that one solitary bird still circles overhead, watching.
These people have notions of their own — a pastor's wife wants a honeymoon, a professor has harebrained ideas, a business owner is in everyone's face, a young actress can do or be anything onstage yet struggles with every real-life decision — and their stories, tucked away for years, unfold and glide onto the pages of Donna Salli's intimate debut novel.
The people of Pelican Church are oh-so-human and expose their mix of shifting hopes and obsessions, protected infidelities, and notions gone awry as one October day swings from sunup to sundown under the watchful gaze of a single pelican.