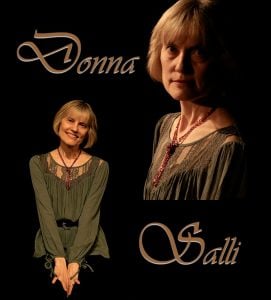 Donna Salli is Finnish-American, on both sides of a large extended family. She was born and raised in Michigan along the shores of Lake Superior, and like the characters in her novel, A Notion of Pelicans, she has a fascination for the big lake.
Her family also lived, when she was in first grade, with her paternal grandparents on their northern Wisconsin dairy farm. The house had a single water faucet in the kitchen that delivered icy cold water from the well—there was no hot water, no toilet or bath, no central heat. Ironically, in that primitive house, she was given a deep love for the life of the mind and the written word. Every night as her mother tucked Donna and her younger brother into bed, she read poetry and stories to them.
Donna writes in multiple genres—poetry, fiction, drama, and the essay. Her creative work focuses on family, heritage, spirituality, changing gender roles, and other social issues.
For more information about her education, publications, and interests, click here.
I need this picture. Do you? I need Heaven on earth. The photo, which I took earlier this fall, captures my most peaceful experience of the last twelve months. It's been a hard year. My mom passed suddenly last November, when I was already feeling for myself the woes of growing older. Then there's the daily news. Reading it, watching it, can make me want to shut down. I know I'm not alone in the anxiety I feel—but I suspect I may be alone in my habit of speaking it out loud. Heaven on earth? Is it possible? I'm a down-to-earth sort, and I know it's on us to bring that sort of peace into this world—that idea of our hands, God's work. I see it, especially, as being on women. We're understood, in collective lore, to be caregivers. While I know with every cell of my body that "caregiver" is too narrow a definition, I don't see it as being generally untrue.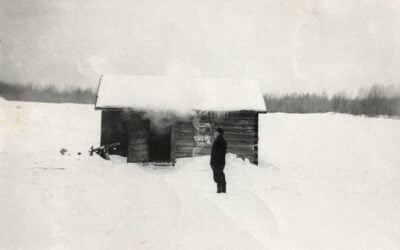 The man in this photo is my grandfather. He's just lit a fire in the sauna. You'll notice the sauna has no chimney—it's a savusauna, a "smoke sauna." The smoke from the stove swirls around the building's interior, then out the door. My family is Finnish by descent. I've been doing a lot of meditating lately on the importance to us of "sauna" and "the family farm." My grandparents bought the land in the early 1920s. My mother was born there, and she and my dad eventually owned it for forty years. After Dad died, Mom made a hard decision—to sell the farm and relocate close to me. The whole extended family felt wretched about her selling, but we were accepting of reality. I was the one who walked the house a last time. It felt symbolic, a thing to be done with reverence, putting that key into the lock for the final time. Losing the farm was a family trauma, and of course, the mind needs structure and meaning to deal with such things—and equally of course, with structure and meaning, things that happen become signs and portents.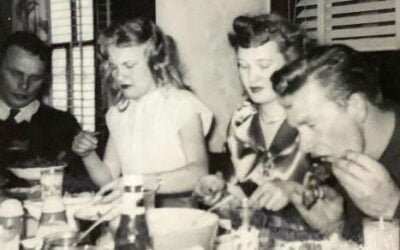 My mother passed away in November, and ever since, I've been writing about her and my dad, who passed nine years ago. This is the third such blog post in a row. These last months, I've been writing in threes. I expanded one of my poems into three parts and called it a triptych. Then I put three thematically linked short stories into a chapbook—sub-titled that too, "A Triptych." The number three has always seemed magical to me. Now, I'm aware that most readers will scroll on by when a writer is talking literary-crap, especially when she gets metaphysical. But this isn't about writing in threes. It's an apology to those who follow my blog, for writing yet another piece about my mom and dad. If you accept the apology and stay with me, you'll get to meet my parents when they were young. In fact, you and I can sit behind my mom in her senior year study hall! We'll think about love, about the people who raised us. Even when we're adults, we don't really know them. In those familiar people are (or were) people we never met. In them, there were lovers, people seeking and growing in intimacy. That part of them, we can't quite imagine.
A Notion of Pelicans – by Donna Salli
On a windblown bluff above Lake Superior sits a fieldstone church. Founded one hundred years ago after a puzzling encounter with a flock of pelicans left Lavinia with a curious notion, Pelican Church still draws inquisitive souls to its pews with the legend that one solitary bird still circles overhead, watching.
These people have notions of their own — a pastor's wife wants a honeymoon, a professor has harebrained ideas, a business owner is in everyone's face, a young actress can do or be anything onstage yet struggles with every real-life decision — and their stories, tucked away for years, unfold and glide onto the pages of Donna Salli's intimate debut novel.
The people of Pelican Church are oh-so-human and expose their mix of shifting hopes and obsessions, protected infidelities, and notions gone awry as one October day swings from sunup to sundown under the watchful gaze of a single pelican.