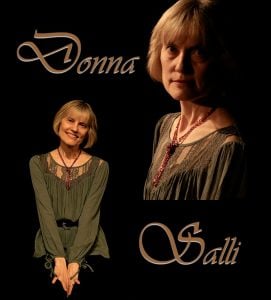 Donna Salli is Finnish-American, on both sides of a large extended family. She was born and raised in Michigan along the shores of Lake Superior, and like the characters in her novel, A Notion of Pelicans, she has a fascination for the big lake.
Her family also lived, when she was in first grade, with her paternal grandparents on their northern Wisconsin dairy farm. The house had a single water faucet in the kitchen that delivered icy cold water from the well—there was no hot water, no toilet or bath, no central heat. Ironically, in that primitive house, she was given a deep love for the life of the mind and the written word. Every night as her mother tucked Donna and her younger brother into bed, she read poetry and stories to them.
Donna writes in multiple genres—poetry, fiction, drama, and the essay. Her creative work focuses on family, heritage, spirituality, changing gender roles, and other social issues.
For more information about her education, publications, and interests, click here.
All of a sudden, life will go to hell, as with this pandemic, as in the sorry things it's revealed about us as a culture. Long before the virus, though, one of the hardest times for me was when my father died. He'd been failing, visibly—but knowing what was coming barely blunted the pain of losing the family structure we'd all relied on. In a corner of my parents' great room was a daybed, with a second mattress that hid underneath. I took the picture above from that bed, in the days after my dad died. Whenever we were all at home, there weren't enough beds, so we improvised, many of us on the floor. My youngest sister and I slept in those twin beds. The night I took the photo, I had just gotten into bed, fatigued by a day spent getting our mother's new existence in order—death notifications, changes to accounts. My siblings were still awake, playing a board game in the dining room. In the low light of the great room, hearing their voices, I felt comforted. Hard times in my life have been interspersed between mostly good times, of course, and it's tempting to wax idyllic about the good days. But they weren't perfect, either. The past wasn't perfect by a long shot—but life was "right," in the sense of its unfolding, of gradually growing toward wisdom. What I'm saying is, there's a gift even when things go to hell.
This morning, it's a mist-in-the-lowlands kind of morning. Earlier, as the sun was coming up, I drove for groceries. Our quiet town was peaceful. Anyone driving through it, I thought, might forget the country is in disarray. I love the stillness before dawn—even a grocery store has a peaceful feeling then. During the drive, I reflected on what we're facing, with the pandemic, the unrest, and the failure of so many of our country's leaders to act for the collective good. The sky was a mottled blue and orange, so beautiful, and as I felt its calm wash over me, a memory surfaced from when I was in middle school. Just like that, I had a new way of thinking about what needs to happen, to solve the problems we're facing.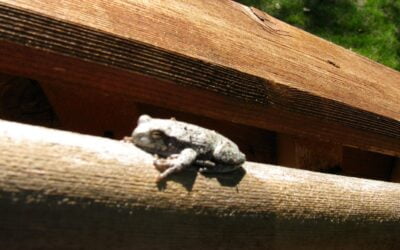 There's something friendly about a frog. The year I was in first grade, my family lived with my father's parents on their small farm. A few Holsteins and their calves roamed the pastures, along with chickens, barn cats, and a scruffy collie. There had once been workhorses and pigs. The pigpen was still there, a visible reminder, and the horses' leather harnesses hung dust-covered on pegs in the barn. The farm seemed magical. My brother and I spent our time outside, catching things—butterflies, lightning bugs, snakes. This is where the frogs come in. We'd splash into the creek after frogs or chase them in the garden or woods. Frogs were my favorite. I took this picture of a tree frog one morning not too many years ago. It's climbing the railing of our deck, maybe drawn by the smell of the coffee my husband and I were savoring in the sunshine. I love its feet—the delicate little cups that give it super powers to go anywhere.
A Notion of Pelicans – by Donna Salli
On a windblown bluff above Lake Superior sits a fieldstone church. Founded one hundred years ago after a puzzling encounter with a flock of pelicans left Lavinia with a curious notion, Pelican Church still draws inquisitive souls to its pews with the legend that one solitary bird still circles overhead, watching.
These people have notions of their own — a pastor's wife wants a honeymoon, a professor has harebrained ideas, a business owner is in everyone's face, a young actress can do or be anything onstage yet struggles with every real-life decision — and their stories, tucked away for years, unfold and glide onto the pages of Donna Salli's intimate debut novel.
The people of Pelican Church are oh-so-human and expose their mix of shifting hopes and obsessions, protected infidelities, and notions gone awry as one October day swings from sunup to sundown under the watchful gaze of a single pelican.