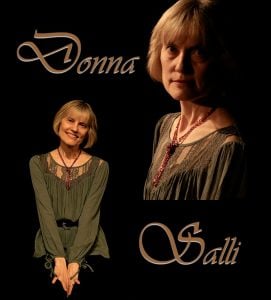 Donna Salli is Finnish-American, on both sides of a large extended family. She was born and raised in Michigan along the shores of Lake Superior, and like the characters in her novel, A Notion of Pelicans, she has a fascination for the big lake.
Her family also lived, when she was in first grade, with her paternal grandparents on their northern Wisconsin dairy farm. The house had a single water faucet in the kitchen that delivered icy cold water from the well—there was no hot water, no toilet or bath, no central heat. Ironically, in that primitive house, she was given a deep love for the life of the mind and the written word. Every night as her mother tucked Donna and her younger brother into bed, she read poetry and stories to them.
Donna writes in multiple genres—poetry, fiction, drama, and the essay. Her creative work focuses on family, heritage, spirituality, changing gender roles, and other social issues.
For more information about her education, publications, and interests, click here.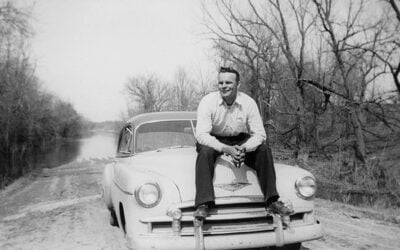 My father loved a good flood. Where I grew up, along the Michigan/Wisconsin border, there was a lot of open country for a flood to roam. Of course, floods aren't always well mannered—they'll hollow out the ground beneath roadways, roil and crash through a town. Still, there's something beautiful to see when water summons its power, washing away all in its path, bringing life and renewal. My parents had grown up in the area, too. The photo above is of my dad. Notice that the road behind him is covered with water. He and Mom were on their honeymoon and had just bought that new car. My father was raised on a farm, was practical in the way of someone who knows the earth's cycles. He's been gone from this world for eight years now, eight years of missing him, especially in the spring as the snow melts and waters gather.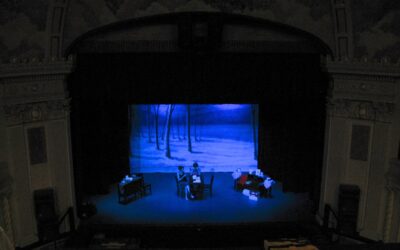 When I was small, I began having a recurring dream. I was on my own, with no adults along, traveling the world aboard a wooden sailing ship, the sort of ship that billowed its sails through the Errol Flynn, seafaring movies my parents used to watch. The crew of my dream ship was a happy group of penguins. The birds could talk. They were charming and kind, pointing out dolphins or seabirds overhead, roughhousing, getting into exuberant tussles. Each wore a sailor's cap and a belt—no pants, just a belt. The only thing the cook knew how to cook was spaghetti! That suited me fine. I loved my mother's spaghetti. I would have eaten it morning, noon, and night, just as my sailing penguins did. In the dream, I felt loved, free. I had the penguin dream repeatedly, until at some point approaching puberty, the dream never came again. Some of the things I've written—poems, a narrative thread in a story or play—have grown out of my dreams, usually my wildest dreams. But recurring dreams are the most interesting. They offer powerful clues to what's going on in the hidden self and, in my case, are a wellspring for art.
I gave the ball of dough a final pat, washed my hands, reached for my phone. My husband was nearby, playing with the dog. It was January 6th—Congress was tallying Electoral College votes, but our TV was turned off. I didn't care to watch members of Congress object to certain votes, from certain states, making claims of election fraud without any evidence. I spent most of my working life teaching freshman composition. Wherever I taught—community college, private school, or university—even the freshest freshman-comp student knew better than to advance or accept unsupported claims. It's a good life skill. You can ascertain a truth through evidence, but acting on feelings without proof is a way to get duped. Evaluating electoral counts certified by the states wasn't Congress's constitutionally assigned task, nor was it their right. I don't believe that people in Congress are fools, so I had to conclude that something disingenuous was happening—something for show. I wanted to keep tabs on what was happening at the Capitol, but not get too preoccupied. So the TV was off and I was making an apple pie. As American as apple pie. It seemed symbolically right, on such a significant day in our national election cycle. But before the pie was in the oven, I was calling it my Insurrection Apple Pie.
A Notion of Pelicans – by Donna Salli
On a windblown bluff above Lake Superior sits a fieldstone church. Founded one hundred years ago after a puzzling encounter with a flock of pelicans left Lavinia with a curious notion, Pelican Church still draws inquisitive souls to its pews with the legend that one solitary bird still circles overhead, watching.
These people have notions of their own — a pastor's wife wants a honeymoon, a professor has harebrained ideas, a business owner is in everyone's face, a young actress can do or be anything onstage yet struggles with every real-life decision — and their stories, tucked away for years, unfold and glide onto the pages of Donna Salli's intimate debut novel.
The people of Pelican Church are oh-so-human and expose their mix of shifting hopes and obsessions, protected infidelities, and notions gone awry as one October day swings from sunup to sundown under the watchful gaze of a single pelican.