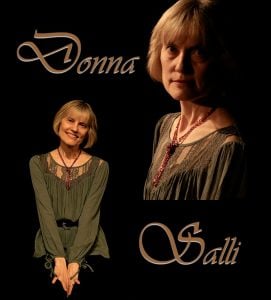 Donna Salli is Finnish-American, on both sides of a large extended family. She was born and raised in Michigan along the shores of Lake Superior, and like the characters in her novel, A Notion of Pelicans, she has a fascination for the big lake.
Her family also lived, when she was in first grade, with her paternal grandparents on their northern Wisconsin dairy farm. The house had a single water faucet in the kitchen that delivered icy cold water from the well—there was no hot water, no toilet or bath, no central heat. Ironically, in that primitive house, she was given a deep love for the life of the mind and the written word. Every night as her mother tucked Donna and her younger brother into bed, she read poetry and stories to them.
Donna writes in multiple genres—poetry, fiction, drama, and the essay. Her creative work focuses on family, heritage, spirituality, changing gender roles, and other social issues.
For more information about her education, publications, and interests, click here.
I used to spend hours each day with my mother at her senior living apartment. That ended suddenly, one day in March, when I found a sign on the door saying the building was closed to visitors because of COVID. After five months now without a serious, face-to-face talk with anyone but my husband and our dog, I feel an increasing need to say something meaningful to somebody different. I'm an introvert, a poet, comfortable with small spaces. Given all that's going on in the world, it feels safest inside these four walls. The pandemic has exposed some scary things—there's a polarity, a mean-spiritedness around us. People choose camps: "I'm religious" . . . or "I'm scientific" . . . or "I'm liberal," or "libertarian," or "conservative." We could parse it a hundred different ways. In today's political climate, you have to pass a membership test—you have to choose an identity and wear it like a medal. Here's my confession, this fifth month of COVID—in this climate, I'm a failure.
I grew up in a family that believed in ghosts. I know eyes are rolling. I should say—enough people in my family experienced apparently ghostly encounters to lead me to believe in them, despite never seeing one myself. The photo above is of the upstairs landing at our family farm. The house was built by my Finnish-speaking grandparents. Through the small door dimly visible in that little bathroom was a dark and narrow closet that we called a putka. Its ceiling was slanted, nestled under the roof, and you had to crouch and crawl to move in it. It's been almost five years since we emptied the house and sold it, and as the anniversary of the closing approaches, I've been thinking about that house. When I was a kid, I thought the putka had a ghost. No one in particular, just a ghost. Lately, I've been thinking more and more about ghosts—the one in the putka, the ones on our streets. There are suddenly things that frighten in our streets. Figures in camouflage, unidentified, driving ominous vehicles without markings. I'll get to them shortly. But perhaps you'd like to meet my putka ghost first?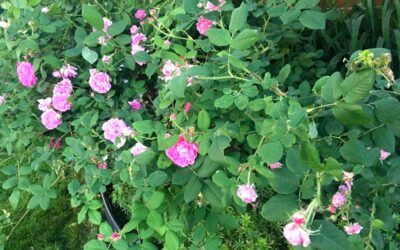 I walked up to the classroom door, my mouth dry from a mix of hope and dread. Behind that door, the Irish poet and future Nobel laureate, Seamus Heaney, would be teaching a poetry workshop. The day before, I'd gone to the organizational meeting for the class. There were many of us there, hoping to be admitted to the workshop—most were Harvard undergrads. A tormenting angel whispered on my shoulder, reminding me of the ways I didn't belong. I worked on Harvard's support staff, neither student nor faculty. I was from the Midwest, a "rural girl" whose dad was an underground miner and whose mother grew roses, glistening beside the sauna door. I liked to write about my father's iron-stained work clothes, those glistening roses—had earned a BA, writing about them. At the organizational meeting, Heaney had explained that he could admit only twelve students. He said we should submit poems. He would place a drop box outside the classroom door, and he would read our poems and decide. He'd said, "I'll have to be brutal." I had submitted poems, and now the class list was posted on the forbidding door. I held my breath, narrowed my eyelids, and looked. My name was on it! He'd been brutal, and my name was there. Of course, that meant other names weren't there.
A Notion of Pelicans – by Donna Salli
On a windblown bluff above Lake Superior sits a fieldstone church. Founded one hundred years ago after a puzzling encounter with a flock of pelicans left Lavinia with a curious notion, Pelican Church still draws inquisitive souls to its pews with the legend that one solitary bird still circles overhead, watching.
These people have notions of their own — a pastor's wife wants a honeymoon, a professor has harebrained ideas, a business owner is in everyone's face, a young actress can do or be anything onstage yet struggles with every real-life decision — and their stories, tucked away for years, unfold and glide onto the pages of Donna Salli's intimate debut novel.
The people of Pelican Church are oh-so-human and expose their mix of shifting hopes and obsessions, protected infidelities, and notions gone awry as one October day swings from sunup to sundown under the watchful gaze of a single pelican.