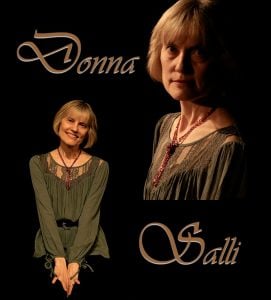 Donna Salli is Finnish-American, on both sides of a large extended family. She was born and raised in Michigan along the shores of Lake Superior, and like the characters in her novel, A Notion of Pelicans, she has a fascination for the big lake.
Her family also lived, when she was in first grade, with her paternal grandparents on their northern Wisconsin dairy farm. The house had a single water faucet in the kitchen that delivered icy cold water from the well—there was no hot water, no toilet or bath, no central heat. Ironically, in that primitive house, she was given a deep love for the life of the mind and the written word. Every night as her mother tucked Donna and her younger brother into bed, she read poetry and stories to them.
Donna writes in multiple genres—poetry, fiction, drama, and the essay. Her creative work focuses on family, heritage, spirituality, changing gender roles, and other social issues.
For more information about her education, publications, and interests, click here.
The dress I'm holding in the photo is one I wore in my mid-teens. It's homemade. I love its bell sleeves, that simple silhouette. Later, during my college years, my parents bought our family farm. The house had few closets, so Mom took garment bags full of outgrown clothing to my Salli grandparents' house. The bags hung in a closet there for decades until an aunt found them and returned the things that had survived an invasion by moths. My mother then gave each of us adult kids the clothing that had been ours, the little green dress among them. Since rediscovering that dress, I've felt strangely anxious about it. I knew the dress had something to say, if it would just declare itself. A few days ago, I realized—anxiety is the point. The dress reminds me of my lifelong anxiety over fashion. It speaks to me of my fraught relationship with politics.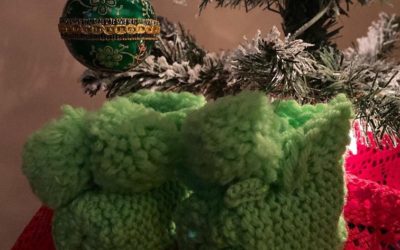 It's December again, the month my grandmother, Mummu, passed away. This year marks forty years. In my linen closet is a small box that contains the baby booties pictured above. Mummu knitted and gave the booties to me when I was an awkward, skinny girl who wanted nothing as much as I wanted to become a mother. When she presented them, she said, "In case I die before you have a baby." That was Mummu, forthright, down-to-earth. I never did have that baby. But I have kept the booties tucked away, and when I notice the box as I go to the closet for sheets, they remind me of her. The booties speak to me about disappointment, too, and the way life has soothed it—more broadly, the way life gradually prepares a person for what lies ahead. Sometimes, you just know that the future you'd imagined will not be yours, and you come to face that hard fact with acceptance, even a sort of embracing.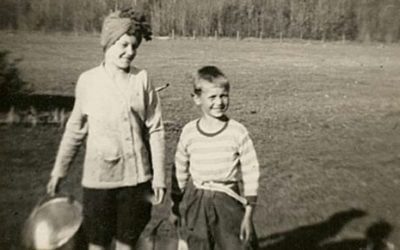 Many years ago, I went home to our family farm to visit my mom and dad. While I was there, my mother's brothers Ernie and Bill came by. We fell into telling family stories over kahvi, which is Finnish for "coffee." We sat a long time at that table, reminiscing and laughing as the blues and grays of evening began to filter in through the window. It struck me that no one turned a light on—no one wanted to break the spell. My uncles were educators and good storytellers. There was a playful impertinence in their eyes as they told their stories, and I understood it completely. Drinking kahvi with the uncles, I saw again what I'd always known: playful impertinence runs in our family. It's why I write, why I write what I write—more than that, why I write poetry, which to much of the world seems a waste of time.
A Notion of Pelicans – by Donna Salli
On a windblown bluff above Lake Superior sits a fieldstone church. Founded one hundred years ago after a puzzling encounter with a flock of pelicans left Lavinia with a curious notion, Pelican Church still draws inquisitive souls to its pews with the legend that one solitary bird still circles overhead, watching.
These people have notions of their own — a pastor's wife wants a honeymoon, a professor has harebrained ideas, a business owner is in everyone's face, a young actress can do or be anything onstage yet struggles with every real-life decision — and their stories, tucked away for years, unfold and glide onto the pages of Donna Salli's intimate debut novel.
The people of Pelican Church are oh-so-human and expose their mix of shifting hopes and obsessions, protected infidelities, and notions gone awry as one October day swings from sunup to sundown under the watchful gaze of a single pelican.