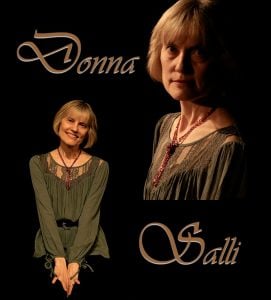 Donna Salli is Finnish-American, on both sides of a large extended family. She was born and raised in Michigan along the shores of Lake Superior, and like the characters in her novel, A Notion of Pelicans, she has a fascination for the big lake.
Her family also lived, when she was in first grade, with her paternal grandparents on their northern Wisconsin dairy farm. The house had a single water faucet in the kitchen that delivered icy cold water from the well—there was no hot water, no toilet or bath, no central heat. Ironically, in that primitive house, she was given a deep love for the life of the mind and the written word. Every night as her mother tucked Donna and her younger brother into bed, she read poetry and stories to them.
Donna writes in multiple genres—poetry, fiction, drama, and the essay. Her creative work focuses on family, heritage, spirituality, changing gender roles, and other social issues.
For more information about her education, publications, and interests, click here.
Corduroy, I thought, early last fall as the leaves turned and daily temps began to fall. I need a pair of cords. Before I go on, I'll note that what you're reading here isn't about buying slacks. What's on my mind is love, which is what's usually on my mind, but my musings today are a bit unusual. They're about love, and car thievery.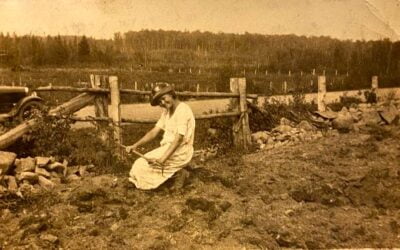 I've spent the last month remembering youthful hours in the sun, glorious hours—bikini-clad, canoeing the Wisconsin River, and later wearing hip sunglasses as I backpacked, over a span of years, in the Utah mountains. Those memories now rise up with less luster as I've found myself treating wonky spots of skin on my nose, spots with the potential to become cancerous. Every night before bed, I've coated them with a "chemo" cream and in the morning washed it off. As the cream began its work, I met with creeping dismay the frightening person who suddenly gazed back from the mirror. Nose harshly red, scabbed, angry—she would scare a child. My mother used to say, when I was still at home and would make some sort of ugly face, "Keep it up and it'll stay that way." I've now completed the treatment, but at its height, I'd look at my nose in the mirror and think, What if it stays this way? It's been a time of wrestling with who I am, why I am, and whether to be embarrassed about either. There's a saying: "Vanity, thy name is woman." I've pondered that idea mightily over the last thirty days. I've also been thinking, more importantly, about my grandmother Hilda.
I don't know much about motorcycles, except that men seem to like them. My first year of college, I planned to be a writer. I was taking a creative writing class, and that detail about men was reason enough for me to write a motorcycle poem. In it, a man is waxing his bike, and a woman watches. I had little romantic experience at that point, but I already knew that the human need for love was going to drive me artistically. Now, I'll get bored occasionally with the status quo—doing more of the same, in the same way. So instead of crafting here a well-behaved essay, with tight focus, I've mixed it up. Today's piece winds between the search for love, the ways of teachers, and the methods and idiosyncrasies of poets. Are you scratching your head, thinking, "Those things go together?" Yes, they do—so follow along, and I'll illustrate. I don't know about you, but it's reassuring to me to hear other people's stories, to be reminded I'm not the only one walking some wobbly blacktop through life.
A Notion of Pelicans – by Donna Salli
On a windblown bluff above Lake Superior sits a fieldstone church. Founded one hundred years ago after a puzzling encounter with a flock of pelicans left Lavinia with a curious notion, Pelican Church still draws inquisitive souls to its pews with the legend that one solitary bird still circles overhead, watching.
These people have notions of their own — a pastor's wife wants a honeymoon, a professor has harebrained ideas, a business owner is in everyone's face, a young actress can do or be anything onstage yet struggles with every real-life decision — and their stories, tucked away for years, unfold and glide onto the pages of Donna Salli's intimate debut novel.
The people of Pelican Church are oh-so-human and expose their mix of shifting hopes and obsessions, protected infidelities, and notions gone awry as one October day swings from sunup to sundown under the watchful gaze of a single pelican.