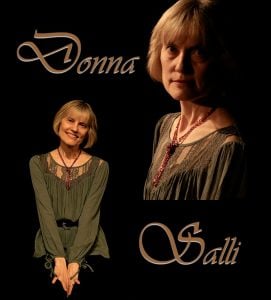 Donna Salli is Finnish-American, on both sides of a large extended family. She was born and raised in Michigan along the shores of Lake Superior, and like the characters in her novel, A Notion of Pelicans, she has a fascination for the big lake.
Her family also lived, when she was in first grade, with her paternal grandparents on their northern Wisconsin dairy farm. The house had a single water faucet in the kitchen that delivered icy cold water from the well—there was no hot water, no toilet or bath, no central heat. Ironically, in that primitive house, she was given a deep love for the life of the mind and the written word. Every night as her mother tucked Donna and her younger brother into bed, she read poetry and stories to them.
Donna writes in multiple genres—poetry, fiction, drama, and the essay. Her creative work focuses on family, heritage, spirituality, changing gender roles, and other social issues.
For more information about her education, publications, and interests, click here.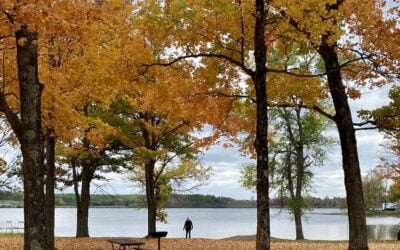 This morning, before dawn, our dog woke me. She needed to use the yard. I stepped out with her into strong wind. Even the light from the streetlights seemed to be blowing around. A blustery rain was moving in. Wispy clouds raced light-gray and ragged overhead, below a darker blanket of overcast. Whenever I'm outside, I watch the sky. It's something I learned from my maternal grandparents, who in the 1920s built a small farm between a big swamp and a big lake. The biggest lake: Lake Superior. My sister and her husband own the farm now—we call it Heaven. It sounds tongue-in-cheek, I know, but we mean it. There's something spiritual, mystical, about the farm. In September, I quite unexpectedly got to spend two weeks there, two weeks in Heaven. This morning, as I watched the clouds sweep past over my head, my mind quite naturally began to wonder what the weather was like over in Heaven. I'm already longing for my next trip there.
My mother picked up a green bell pepper and placed it on the cutting board. We were at the close of the growing season—the table was heaped with peppers, fresh from the earth. In moments, she had gutted and sectioned it. We were making pickled peppers, something Mom did every year. I was fourteen—this was my first time helping. "You do the yellow chilies," she said. "Cut them in half, then take out the seeds. We'll put a half pepper into each jar—they'll add a little heat." I nodded and set to work. The peppers felt smooth against my skin. They were lovely to look at. A little heat would be good. Looking back now, more than fifty years later, I have to say, yes, a little heat is good—until it's not.
Corduroy, I thought, early last fall as the leaves turned and daily temps began to fall. I need a pair of cords. Before I go on, I'll note that what you're reading here isn't about buying slacks. What's on my mind is love, which is what's usually on my mind, but my musings today are a bit unusual. They're about love, and car thievery.
A Notion of Pelicans – by Donna Salli
On a windblown bluff above Lake Superior sits a fieldstone church. Founded one hundred years ago after a puzzling encounter with a flock of pelicans left Lavinia with a curious notion, Pelican Church still draws inquisitive souls to its pews with the legend that one solitary bird still circles overhead, watching.
These people have notions of their own — a pastor's wife wants a honeymoon, a professor has harebrained ideas, a business owner is in everyone's face, a young actress can do or be anything onstage yet struggles with every real-life decision — and their stories, tucked away for years, unfold and glide onto the pages of Donna Salli's intimate debut novel.
The people of Pelican Church are oh-so-human and expose their mix of shifting hopes and obsessions, protected infidelities, and notions gone awry as one October day swings from sunup to sundown under the watchful gaze of a single pelican.