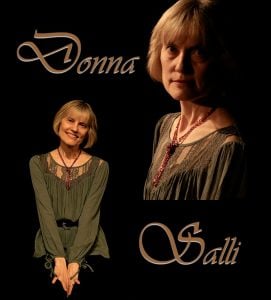 Donna Salli is Finnish-American, on both sides of a large extended family. She was born and raised in Michigan along the shores of Lake Superior, and like the characters in her novel, A Notion of Pelicans, she has a fascination for the big lake.
Her family also lived, when she was in first grade, with her paternal grandparents on their northern Wisconsin dairy farm. The house had a single water faucet in the kitchen that delivered icy cold water from the well—there was no hot water, no toilet or bath, no central heat. Ironically, in that primitive house, she was given a deep love for the life of the mind and the written word. Every night as her mother tucked Donna and her younger brother into bed, she read poetry and stories to them.
Donna writes in multiple genres—poetry, fiction, drama, and the essay. Her creative work focuses on family, heritage, spirituality, changing gender roles, and other social issues.
For more information about her education, publications, and interests, click here.
My father, Oiva, has been gone from this world for five years, and I think of him every day. When I got married, in my early twenties, my husband and I gave our parents matching wood-and-metal wall ornaments in the shape of a cross, and my folks hung theirs on the wall in their bedroom, where it stayed for nearly forty years. I took it down from its nail when Mom sold the farm after Dad passed, and she told me to take it—it was mine. Now, at the start of each day, I touch that cross and speak aloud to my dad. It's a ritual, a sort of love song to my father. There's something of him there, in the metal and wood: his spirit, absorbed over decades.
The cover of my novel, A Notion of Pelicans, might suggest it's a romance. Bear with me. My interest here isn't really my book. The novel does have romantic overtones. It weaves together sex, God, and guns—illicit sex, an elusive God, and a fear of guns. I was raised to be a good girl, with little notion of my sexuality. It was a jolt to realize, sometime during adolescence, that I didn't want to be a good girl. I didn't want to be a bad girl either—didn't want to live out any sort of narrow definition. My hopes and desires were more complicated than that.
Taping a plastic guard over your eye is a trip, in that 1960s, mind-altering sense. You're disoriented, more aware of your body, and strangely more daring. I suppose if I wanted a polished authorial image, I wouldn't show you the picture at the top of this post. But it's truthfully me. I had eye surgery a couple weeks ago to implant a new lens. My husband took the photo after we got home. I was sleepy and had put the guard on to protect my eye if I dozed off. I love everything about this photo! I'm groggy from anesthesia, a bit goofy-looking. What I love most is that I'm out-of-focus, and it's the colorful lap throw over the back of the sofa that anchors the image. The picture is grainy, sudden, but it captures my experience of life. I live blurred, on a border. On one side is what my eyes see, on the other what I sense. Two kinds of seeing, and I'm not sure which is clearer.
A Notion of Pelicans – by Donna Salli
On a windblown bluff above Lake Superior sits a fieldstone church. Founded one hundred years ago after a puzzling encounter with a flock of pelicans left Lavinia with a curious notion, Pelican Church still draws inquisitive souls to its pews with the legend that one solitary bird still circles overhead, watching.
These people have notions of their own — a pastor's wife wants a honeymoon, a professor has harebrained ideas, a business owner is in everyone's face, a young actress can do or be anything onstage yet struggles with every real-life decision — and their stories, tucked away for years, unfold and glide onto the pages of Donna Salli's intimate debut novel.
The people of Pelican Church are oh-so-human and expose their mix of shifting hopes and obsessions, protected infidelities, and notions gone awry as one October day swings from sunup to sundown under the watchful gaze of a single pelican.